Welcome to Trinity Lutheran Church and School!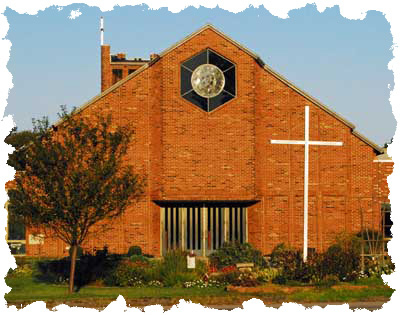 If you are new, considering a visit, or haven't been here in a while, we would like to help you along. We understand that a new church can be intimidating, so we are here to answer any questions or concerns you may have.
Considering a Visit?
Worship Schedule
: Saturday @ 5:00pm; Sunday @ 8:30am, 11:00am
Location
: 8540 East 16th Street, Indianapolis, IN 46219
Meet Our Pastor
: Rev. Thomas King III
For Your Family
Trinity Lutheran School
: Lutheran Day school educating Pre-school through the 8th grade.
Sunday School
: Bible classes for adults and children meet each Sunday 9:45-10:45am.
Trinity Children's Care
: Nursery care ministry for children ages 6 weeks to 3 years.
Interested in Next Steps?
Thinking about baptism or membership? Email Pastor King
Need help? Call (317) 897-0243
If you live close to Trinity Lutheran Church and School you have often heard the tolling of the church bell.

The bell is rung for many different reasons; mainly for church services but also for weddings and funerals and other times of worship and celebration.

On the weekend you will hear the bell toll 7 times at the beginning of each church service.

The bell will also toll 3 times towards the end of each service during the Lord's Prayer.

As the Lord's Prayer is prayed the bell will toll one time for each of the following words: "Father" "bread" and "Amen".

The Lord's Prayer:

Our Father (toll) who art in heaven, hallowed be Thy name, Thy kingdom come, Thy will be done on earth as it is in heaven. Give us this day our daily bread (toll), and forgive us our trespasses as we forgive those who trespass against us; and lead us not into temptation, but deliver us from evil. For Thine is the kingdom, and the power, and the glory forever and ever. Amen (toll)

We would like to invite you to join us for worship and fellowship.

5:00PM Saturday – is a traditional worship service which includes the singing of hymns with the church organ, a children's lesson and a message from the pastor.

8:30AM Sunday is also a traditional worship service.

11:00AM Sunday is a contemporary worship service with pianist or the praise band leading the singing with scripture based songs of celebration, a children's lesson and a message from our pastor.
If you come to a communion service, please speak with Pastor King if you are not a member of an LCMS church. Out of respect for different beliefs/confessions, and especially out of concern for the biblical call in communion and the possible consequences of communing to one's detriment (1 Corinthians 11:27-31), Pastor King as undershepherd wishes to shepherd you to Christ's mercy, not His judgement. Please see him first.

God's good Word and promises are filled with mercy, direction and blessing. Come join us!

We Hope To See You Soon